Mikrotik hEXr3
If you look at the new newsletter this month, it basically reads as just an advertisement for the new hEX rev 3…and for good reason. For one, Andrew Thrift is excited about these things, which means they are something special.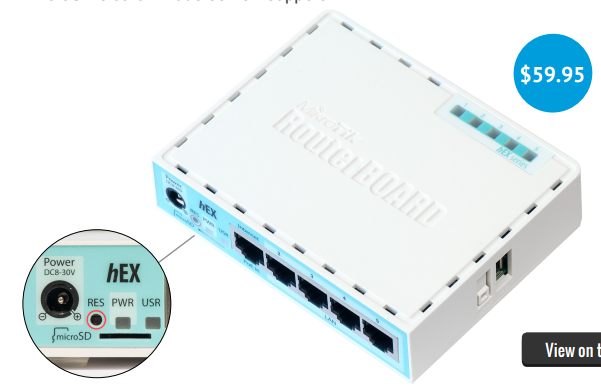 Specs:
• 880 MHz CPU, 2 cores with 4 threads total
• 256 MB RAM
• Full size USB
• microSD slot for "Dude server" support
• IPsec hardware acceleration ~450 Mbps
• Same form factor
• Same price ~$60
So as you can see it occupies the same footprint, so it's the size/shape that I love. The real upgrade is the proc. It's a MIPS(MT7621A) that has dual cores which is reported to give you 4 threads. That's a fair bit of processing power in a small/cheap package. It's due to this they say, ad nauseam, that it is "Dude server ready."
They've been making updates to the dude, and it seems evident they are committed to bringing it up to snuff. They even placed a microSD slot on this device for fast/persistent Dude DB writing(up to 128GB). I've been attempting to run the Dude on an older 2011, with mixed results(it usually pegs the proc even with low utilization).
It also boasts a full size USB port for 3g/4g or harddrive/flash storage. This could also be used as Dude storage or SMB sharing.
Part of the chip design includes some IPSec offload which means you will can get accelerated encryption without murdering the processors. Looks like some of their testing shows 225Mb unidirectionally. It seems they've taken some of Alex's exhaustive testing to heart, and are ensuring that packets are not being reordered.
They are saying that with routed 1400B packets they are getting 1972Mb of throughput. I'm guessing this means under real world conditions with some firewalling and possibly some queuing you should be able to get ~500Mb+ of throughput.
This honestly sounds like a solid tower router. Small power/formfactor along with the standard MTK features. I can also see this as being a good managed router for business customers. I can imagine being able to replace 90% of datacenter customer WAN routers with one of these…hehe.
What are your thoughts guys…good, bad, ugly?