Mikrotik Newsletter 41
THIS…is a news letter. This one is jam packed with delicious cookies…or at least it has some new product.
600MHz CPU
two 4dbi antennas
Dual chain 2.4 B/G/N wireless
128MB RAM
5 copper gig
5 fastethernet
1 SFP port (which I believe has DDMI?)
RJ45 serial port which appears to be on the back
Micro USB port w/ adapter for 3G cards
ROS level 5 license
Touch screen LCD!
Voltage/Temp monitoring
The indoor model (RB2011UAS-2HnD-IN) is the first MikroTik product to be equipped with a touchscreen LCD panel. Not only does it show interface statistics, graphs, and resource usage – you can also perform simple configuration tasks. You don't have to worry about security, because the screen is password protected. As it's a touchscreen, entering your password is very simple.
So that's an interesting addition…an LCD. I suppose it seems like something that may be useful, but I can't foresee myself every using it. The first thing that popped into my head is "Can I play pong on it?" But seriously, I wonder if we will have the ability to display custom information on screen…I somewhat doubt it.
I do love the power in this box plus the integrated wireless.

600MHz CPU
64MB RAM
5 gig ports
5 fastethernet ports
Rackmount enclosure
Level 4 license
This seems to be your basic 2011 sans wireless with a nice black rackmount case. This would look quite nice in a wallmount rack in a small office.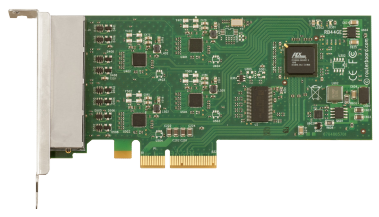 4 10/100/1000 copper gig ports
PCIe 4X
Chipset Atheros AR8131/M
Supports RouterOS, Windows, Linux
To this I say boom shaka laka, unless you prefer boom goes the dynamite. There is no such thing as a reasonably priced 4 port gig NIC…until now!
I love to see new hardware and I really like the new NIC. It seems I use just as many x86 MTKs as I do routerboards at this point 🙂 What say you?