RB2011LS-IN – AKA Mikrotik With SFP
I received my 2011 and I've only done some preliminary testing. First impressions are positive. The unit is attractive, slim and feels solid.
Just as a recap it has:
600MHz mipsbe CPU
64MB RAM
5 FastEthernet
5 Gigabit
1 SFP slot
6W power consumption
Again, these have the power cord built into the unit…seems somewhat strange, but it has plenty of length on the cable.
So I tested using some of my Cisco compatible SFPs and they worked a treat. I tested by connecting my 2011 SFP over to a Cisco 3550 GBIC. I then used a copper GBIC to a server based MTK I have.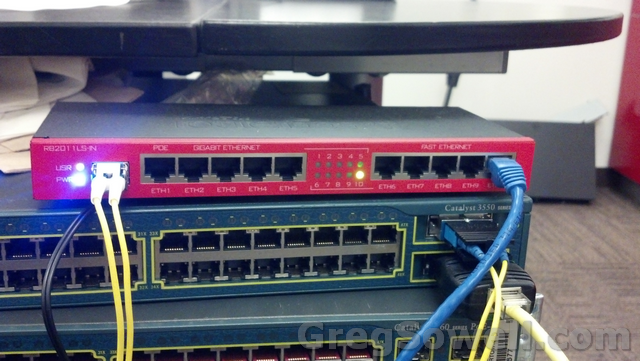 Things of note. The link light for the SFP is the USR light…I'm not sure what that means, but when link is up, USR lights up :).
Another thing I noticed is that if you disable the SFP interface inside the router, the optic physically stays up. It continues to pass light and the link light even continues to report properly…I don't know if this is by design or if it is just a bug. At this point I'm assuming it is a bug and I've reported it.
**EDIT** According to Mikrotik this is a hardware limitation. They will have this feature and DDMI(advanced reporting) available in the next hardware revision.
Doing a speed test to my server based through the 3550 I get near line speed doing UDP from the 2011.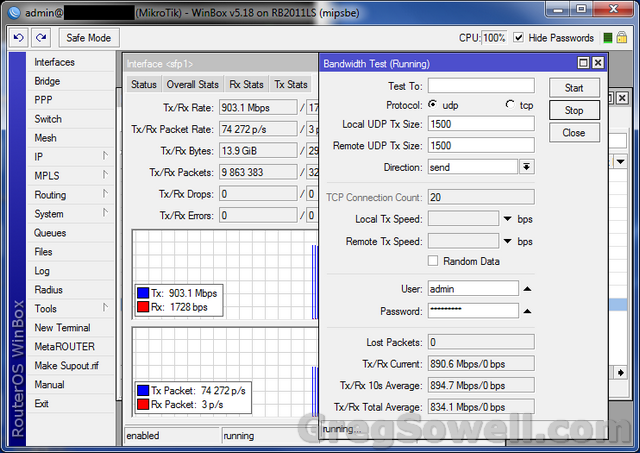 I have a larger facility that only has fiber distribution to customers so I'll be pacing this in production pretty soon.
Don't be jelly guys 😉