Mikrotik CCR-1036 – Cloud Core Router
The first announcement that I've seen so far from the European MUM is the new CCR-1036.
36 core networking CPU
1.2Ghz per core
12MB on chip cache
Hardware encryption
8 > mpps forwarding
15 > mpps fastpath forwarding. In general, the passage from the input interface directly to an output interface, through the fabric with minimum modification at the output interface, is called the fast path of the router. wikipedia
Up to 16Bg of throughput. I assume this is bridging with no firewall.
Ports directly connected to CPU
1U
12 Gigabit ports
4 SFP ports
Color touch screen display
(Image courtesy Honzam from the MTK forum)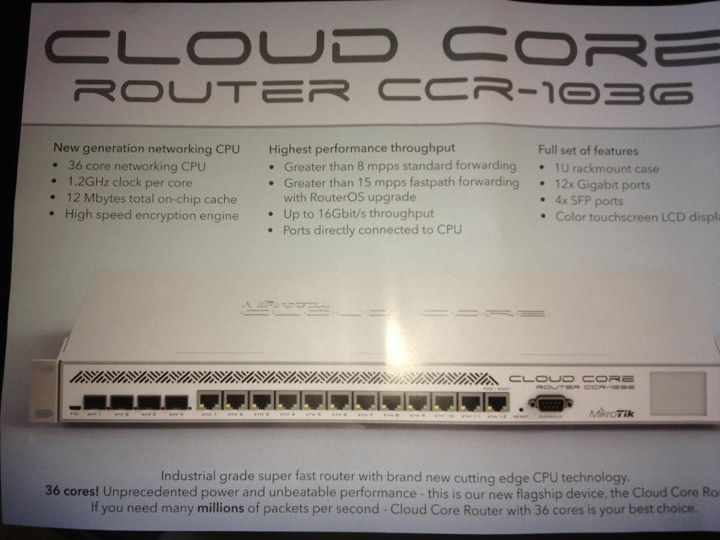 It pretty much looks like an 1100AH, though the specs are bananas.
I know QoS is heavy CPU wise. Does this mean that all QoS will be processed on a single 1.2Ghz core or will it be multicore aware and distribute the processing? My guess is that it will relegate the processing to a single core, which isn't the worst thing in the world…it's just with the theoretical throughput the router can handle it would choke trying to do QoS on a single core with that much interwebs moving through.
Can't wait for more news and thanks for the tip Andrew!